And it's time to make this topic for this year, to follow the tradition.
This is my current desktop: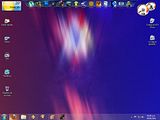 [Pumo software main website]
-
Pumo Mines current progress: 60%

-SYSTEM SPECS-
CPU: Intel Core i7 4770 3.4 GHz (3.9 GHz Turbo)
RAM: 8GB DDR3 1333MHZ
SSD: Kingston SSDNow V300, 240GB
HDD: Seagate 1TB 7200RPM SATA
External HDD: Seagate Backup Plus Slim 1TB 5400RPM
Video: nVidia GeForce GTX 1050 Ti OC 4GB
Sound: RealTek High Definition Audio
Display 1: LG 24M38H 24" 1080p HD LED Monitor
Display 2: Dell 19" 1440x900 TFT Monitor
OS: Windows 10 64-bits
Well, I guess I'll follow up with mine which hasn't been posted here.
WELL, here it is.
WELL
, it's totally interesting and not at all sappy (riiiiiiiiight).
WEEEEEEEEELL
, it iiiis pretty rare to see a jaguar looking so cute.
Ok this "well" business is getting too silly. I'm pretty sure

everyone

(or almost everyone) already knows who I'm trying to imitate and I'm very sure I'm going past the point where it's not imitation anymore and I'm just making fun of the character...
We live in a universe... It's distracting
=========================================================
beware of ounce
---
Who is online
Users browsing this forum: No registered users and 1 guest